A Stunning Transformation
Hello Everyone!
As the medical director of MeiRai, I'm excited to share one of our best results from the past two years.
The star of these before and afters is Sharman. You may recognize her from her frequent appearances around the office assisting me in the treatment room and filling in at the front desk.
Two years ago, Sharman was one of MeiRai's first patients. Sharman came in wanting a full face rejuvenation and basically placed her face and neck in my care. Not many patients have the fortitude to do this, but as you can see from her before and after photos her spunkiness paid off!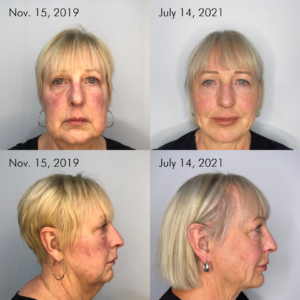 How did I get Sharman's face lifted and brightened like this without surgery?
The process began in her neck with an injectable that dissolves fat. As the fat dissolved, the skin also tightened. Sharman had a total of four of these treatments.
Filler was used to support the cheeks and mid face, softening the nasalabial folds and marionette lines and, of course, highlighting her lips. In patients with advanced aging, fillers offer lifting and filling while a patient builds collagen with more advanced treatments.
Her own growth factors in the form of Platelet Rich Fibrin (PRF) were injected in the under area twice.
One of my favorite treatments, Sculptra, was injected in a series to bring back lost facial volume and tighten skin as her filler faded away. Sculptra is an amazing injectable that stimulates your own collagen to grow.
She's also had Ultherapy for additional lifting and tightening, plus microneedling (both radiofrequency and regular), and Intense Pulsed Light (IPL) to address pigment changes and lighten age spots and sun spots. She's also a regular recipient of HydraFacials and uses ZO skincare every day.
_____________________________________________________________________________
I have to add, there are a few things that made Sharm successful.
First, she had reasonable expectations. She wasn't trying to look like she was 30 again. She was happy to see reasonable improvement.
Second, she was in it for the long term. The best patients are patient. She looked at the 3 year plan, not the 3 month plan.
Last, she knows that often there is a little discomfort and downtime if you want real, natural rejuvenation. Injury = repair = rejuvenation!
_____________________________________________________________________________
It's never too late to start taking care of your skin. Come in and see what medical aesthetics can do for you. We can give you a personal consultation, listen to your individual needs, and design a plan that will fit your skin and dreams for years to come!
I'll be seeing you soon.